250-256 CORINPHILA-AUCTION September 7 to 12, 2020
Dear customers and firends of Corinphila,
The catalogues for our 250th - 256th auctions of 7 - 12 September 2020 are now available as PDF files (identical to the printed auction catalogues) and as ONLINE CATALOGUE with keyword search function. The printed auction catalogues will be sent out at the beginning of August 2020.
All seven auction catalogues are now online available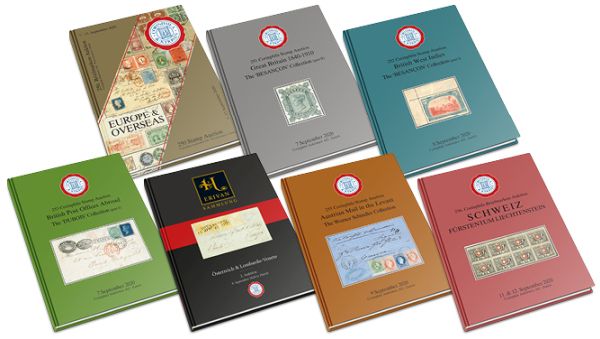 The main items in our auctions:
All world postal history & philatelic material (250th auction): British Commonwealth, including many special offers of Australian States, South Australia 'Departmentals', the Rhodesias, 'BESANCON' collection (Part 1), Austria, specialised collection of French Post Offices in the Levant, Greece Hermes Heads, Romania, China, Mexico/Guadalajara and Peru.
Special catalogues (251st to 256th auctions): the disposal of important collections with many world rarities. Great Britain 1840-1910 ('BESANCON' collection, 251st auction), British West Indies ('BESANCON' collection, 252nd auction), British Post Offices Abroad ('DUBOIS' collection, 253rd auction), Austria & Lombardy-Venetia ('ERIVAN' collection, 254th auction), Austrian Mail in the Levant (Werner Schindler collection, 255th auction) and the special catalogue for Switzerland & Liechtenstein.
In the 'pre-corona period' up to March 2020, we announced in our advertising the special catalogues 'Brian Moorhouse Estate - South & Central America' and 'Gregory Frantz - Stamp Issuing Steamship Companies'. Due to the worldwide 'corona lockdown' from mid-March 2020 onwards, the processing of these two important offers of material could unfortunately not be completed. We have postponed the sale of these collections until our next auction at the end of January 2021.
We would like to draw your attention to our offers of high-quality philatelic material!
Please register on our website for viewing or for personal participation in the auction.
All those viewing and bidding will be given sufficient space and time, in compliance with the social distancing and hygiene rules of the Swiss Federal Office of Public Health (BAG). If you come to a viewing or auction without registering, there is a risk that you will not be admitted for hygiene reasons. You will find the link for registration here:
Alternatively you may also telephone us (+41 (0) 44 3899191) or send an email to info@corinphila.ch
Viewings until 4 September 2020 are possible at our company's offices by prior appointment.
Viewings before 4 September 2020: even during the official viewing hours we strongly recommend that you register in advance.
Personal participation in the auctions from 7 September 2020: registration is also required.
Stay well!
The whole team at Corinphila Auctions of Zurich wishes you this from the bottom of their hearts!