Auction Results 309-320 Corinphila Auction
Consign to June Auction 2024
We accept already consignments for our scheduled Sale in May 31st to June 8th, 2024
If you think to consign to the next sale please do not hesitate to contact us. We will be pleased to arrange an appointment in our office or discuss larger holdings in your own home.
Closing date for consignments: March 5th, 2024
Numismatics and Philately in best Hands
SINCONA
CORINPHILA

The passion and fascination of collecting is something
that closely combines philately and numismatics.
CORINPHILA and SINCONA represent discretion,
expertise and quality in support of this collecting.

If you would like to sell your numismatic treasures
as well as your stamps, then we have the right partner for you.
At Corinphila we know that your submission
will be in the best company.
Partner of the Global Philatelic Network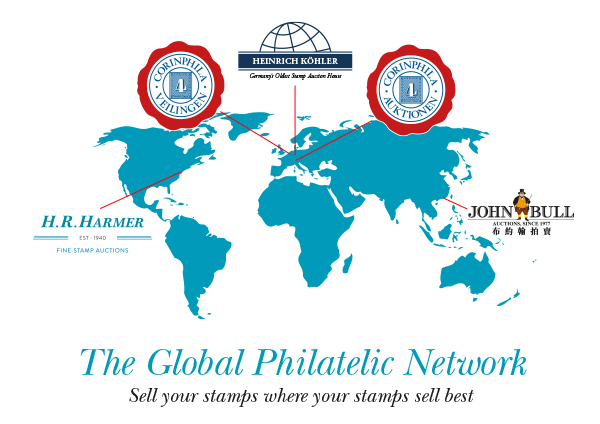 Global Philatelic Network Auctions
Company & Country

Next Auctions

Consignment Deadline

Corinphila Switzerland
Switzerland's Oldest Stamp Auction House.
Founded in 1919

24 November - 2 December 2023
3-8 June 2024

–
5 March 2024

Corinphila Netherlands
Fine Stamp Auctions since 1974

13-16 September 2023
13-16 March 2024

–
30 December 2023

Heinrich Koehler, Germany
Germany's Oldest Stamp Auction House.
Founded in 1913

18-23 September 2023
18-23 March 2024

–
15 January 2024

H.R. Harmer, USA
Founded in 1940
5-7 December 2023

–

John Bull, Hong Kong
Hong Kong's Oldest Philatelic Auction House.
Founded in 1975

9-11 December 2023
15-17 June 2024

30 September 2023
30 March 2024