Private Treaty - Haiti - The "Liberty Head" Issues 1881 - 1887
THE BRIAN MOORHOUSE INTERNATIONAL LARGE GOLD MEDAL COLLECTION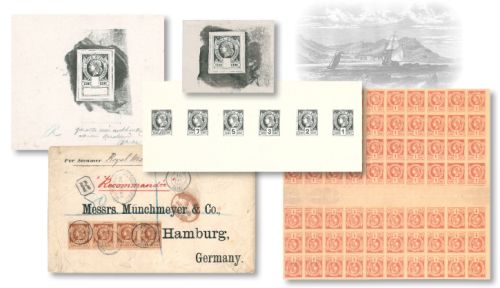 One of the most important collections ever formed!
Haiti both joined the U.P.U. and issued its first series of postage stamps showing the design of the 'Liberty Head' on 1st.July 1881. A set of six imperforate values were issued. The Brian Moorhouse collection concerns itself with the imperforate and perforate issues. The collection is among the finest ever assembled incorporating nearly all key items from the famous collections of Thomas W. Hall, Ferrars H Tows, Dr. C.W. Hennan, Dr. Norman S. Hubbard and Enrique de Bustamante. In a display given on 21st. May 2015 to the Royal Philatelic Society, London, Brian summarised: "My own 'Liberty Head' collection started slowly in the 1990's and my first chance to expand it was the Sabattini auction. Over the next few years I was fortunate to buy the intact Carroll Lloyd collection direct from Caroll himself and I was able to obtain some interesting classic pieces from Wally Dean over a period of time. Other material came from different sources but, again, I was happy to be in the right place at the right time on the occasions when Haiti's two major pieces, the imperforate 1c. multiple with ten tete beche pairs and the registered cover with the strip of four imperforate 20c. values, were available for sale."
The collection was awarded Large Gold at AUSTRALIA 2013 in Melbourne and FINLANDIA 2017 in Tampere, Finland.
The entire Brian Moorhouse collection Haiti - The 'Liberty Head' Issues 1881 - 1887 can be viewed on appointment in Zuerich. CHF / US Dollar 595'000.-
(no additional buyer's premium. Subject to Swiss VAT in case the collection will not be exported from Switzerland)