New Private Treaty Offer: Great Britain 1864/80 1 d. rose red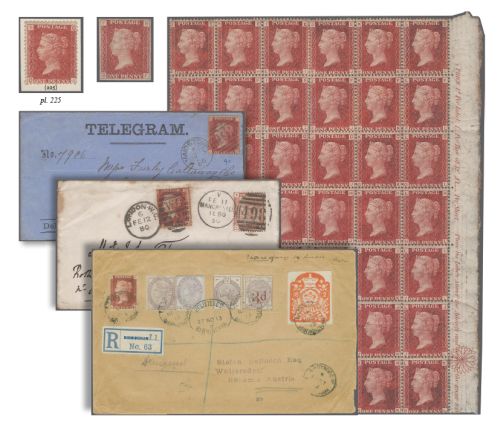 Offered at: CHF 25'000 (excl. Swiss VAT)
The fine specialised collection of Great Britain 1864/80 1d. rose red plate numbers 71-225 (excl. pl.77) on album pages neatly written up for exhibition, incl. all plates mint (plate 225, QI, provenance: Harmers auction 27 Oct. 1976, lot 1323), each plate represented by at least one cover (pl. 225 vertical pair KK-LK used with 1870, ½d. on envelope to New York, pl. 225 is very rare on a foreign destination cover!), 23 Imprimaturs from various plates incl. pl. 223, varieties incl. 66 stamps with inverted watermarks, imperforate with plate 148 mint o.g. with Philatelic Foundation cert. (1962), plates 146, 198 and 207 ovpt. SPECIMEN, various protective underprints, mint multiples incl. pl. 96 blocks of 16 QI-TL (lower right corner marginal block with pl. no.), and OB-RF block of 20, pl.102, EG-KL right hand marginal block of 42 showing dividing star, pl. 122, NJ-SL block of 18, pl. 143, AA-BF corner marginal plate no block of 12, plate 191, KG-NJ, block of 16, pl. 214, SA-TD corner marginal pl. no. block 8, used blocks incl. pl. 138, DD-GF block of 12 with neat CHESTER MY 9 72 cds., also included several covers with mixed plates / mixed issues frankings (incl. pl. 208 used with Surface printed 1880, 1d. Venetian, foreign destinations (incl. Ionian Islands), various printed matters to foreign destinations (incl. Egypt!), pl. 103 on 'Fun Magazine', pl. 118 on Punch Magazine, pl. 95 on Sun Fire Office printed letter, pl. 96 on printed Telegram (!), pl. 143 on neatly executed and decorative gold printed Lady's envelope, some better cancellations incl. More to pay, H&K Packet, Brunswick Stars, Sorting Tender, the collection is housed in 5 volumes, some slight oxidation as usual, otherwise the condition is generally good to very fine with many choice items.
See the complete collection in our Picture Gallery here
The complete collection can be viewed in our Zurich office. Please do not hesitated to contact us for further information.