Private Treaty - British Letter Mail to Overseas Destinations 1840 to 1875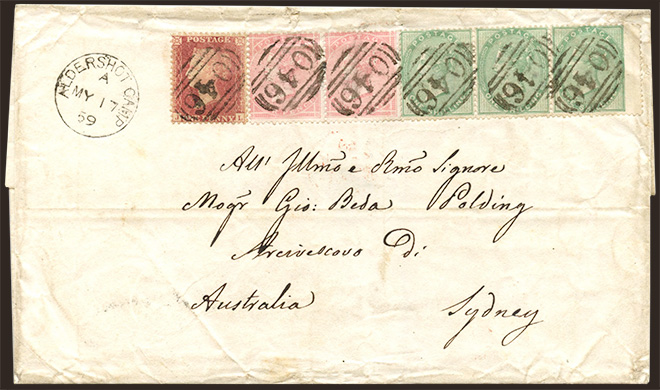 1855/57, 4d (2) + 1s. (3) + 1d. used on cover from the famous Archbishop Polding correspondence, dispatched from ALDERSHOT (MILITARY) CAMP to Sydney, New South Wales.
The Hans Schwarz Collection
Great Britain is an island, so all mail to foreign destinations consequently has to be sent overseas.
On 10th January 1840, in Great Britain an Uniform Penny Post was established under Sir Rowland Hill resulting in the introduction of postage rates based on a weight system instead of rates per distance and number of sheets.
The inland letter rate was reduced to 1 d prepaid. Shortly later, on the 6th May 1840, this was followed by the introduction of the world's first postage stamp, the One Penny Black.
In the period 1840 to 1875 letters to foreign destinations occur franked by postage stamps, partly franked with postage stamps (for late fee from November 1858), prepaid in cash or totally unpaid, leaving all costs to the recipient. Also letters can be found prepaid only to the border of a country.
Optional prepayment was possible to many destinations. The use of postage stamps if prepayment was optional was not popular because of the complexity of rates and rules for insufficiently franked letters.
To simplify the complexity of this system, the United States called for an International Postal Congress in 1863. Following an initial conference in Paris a second meeting was called for by Heinrich von Stephan of the North German Union to take place in 1870, but the Franco-Prussian War intervened and nothing materialised until 1874.
In September 1874, 22 countries incl. Great Britain sent representatives to Berne (Switzerland). The «Treaty of Berne» was signed on October 9, 1874 in the «Rathaus zum Äusseren Stand». Initially under the name «General Postal Union», the name was changed four years later at a further conference in Paris to «Universal Postal Union» and most countries became member.
The entire Hans Schwarz collection British Letter Mail to Overseas Destinations 1840 to 1875 (UPU) can be viewed on appointment in Zurich.
CHF 39'500.- (no additional buyer's premium. Subject to Swiss VAT in case the collection will not be exported from Switzerland).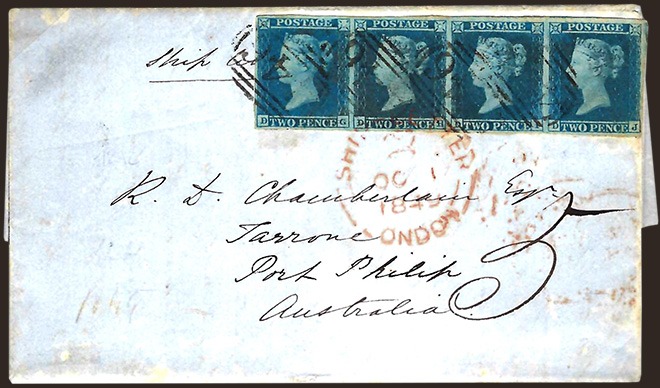 1841, 2d. blue imperforate strip of four used on SHIP LETTER to Victoria, Australia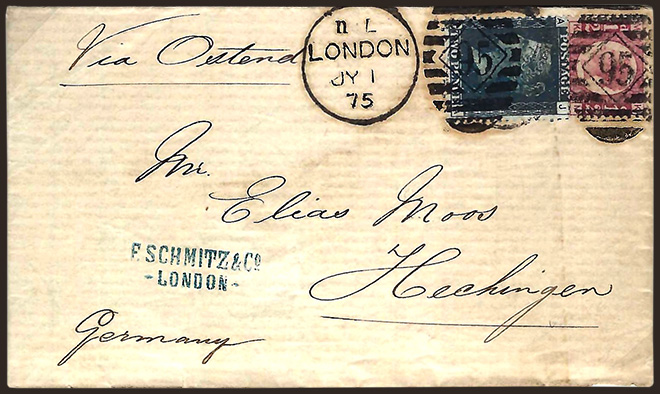 1 July 1875, Universal Postal Union First Day Cover!