Nepal - Die Shiva Mahadeva Ausgaben 1907 - 1930 - 1935
The outstanding collection, originally held in an archive by the printer's Perkins, Bacon & Co. of London in their Chancery Lane safe deposit. This safe deposit also held the Perkins, Bacon records as well as Proofs and Essays for stamps and banknotes printed by the Company. ►read more...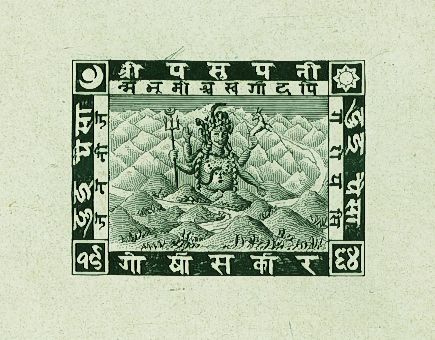 The three volumes collection begins with a 1906 pen and ink drawing sent from Nepal to their British Agents, Keyes & Sons of Whitefriars Lane in London, showing the inscriptions desired for a 16 p. value (similar to the first issues of 1881) and a sample USA adhesive in purple for the colour to be used. The second unique Essay is in rectangular format and dated 1907, with manuscript at base 'bottom / wording for the sixteen pice stamps showing also / the bottom corners filled with required figures / required 150'000 stamps / colour blue'. Thereafter with Master Die Proof of 2 pice without corner denominations together with other Proofs as the unique imperforate sheet of 200 for the 4 pice value divided by inter-panneau margin leaving 10 tête-bêche pairs as well as a further perforated Proof sheet of 100, again unique. The collection comprises all three issues with all values in different shades, perforated or imperforated together with some miss-perforated multiples.
During the 'Blitz' on London in 1940, the Luftwaffe scored a direct hit on the building, resulting initially in a fire on the premises or what remained of them, followed by a soaking from London's firemen. This has affected much of the material in the volumes described below. However, much of the material remains unique and, as such, could even be termed as unique reference collection, which will be offered as Private Treaty by Corinphila Auctions Zurich ►read more...
Price on request. ►PDF-Flyer I ►PDF Flyer II
Die komplette Sammlung, finden Sie in unserer Bildergalerie hier►